Barcoding Service
---
Barcodes: Not Just for the Post Office Anymore!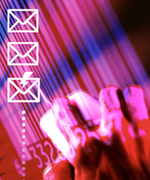 Our barcoding services takes in mail from businesses all over Western North Carolina and barcode sorts it for postage savings. Every day, our couriers bring in mail to be metered and barcoded. By combining your mail with the daily mail from other local businesses we can save our clients money on their daily postage, streamline their mailroom processes, and even get the mail delivered faster because we've already taken steps the USPS normally would, all before it is delivered to the Post Office! All of which saves our clients time and money, just by letting us pick up their mail.
Perhaps you've got one or two days a month where your outgoing mail volume is extremely high. We can work with you to develop a program where we take delivery of your mail on those special days, cutting down on your time, effort and postage bill.
We can even read hand addressed mail, so there is very little limitation on what can handle for you!