Project Management
---
Print. Process. Mail. All in one stop.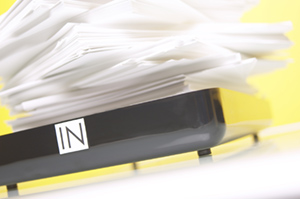 We see it all the time. A good mailing project gone bad.
The person in charge of marketing for the business needs to get postcards out ASAP to promote the big sale coming up. Concepts are discussed, creativity flows, and behold! A brilliant postcard is devised. Wonderful!
Quotes are taken from local printers. However, a better price was on cheap-o-postcards.com, an online-only printer in Walla Walla, and to save a few bucks, the printing was done there. They promise a 1-week turnaround, which fits your timeline perfectly. Two weeks later, the cards show up because they didn't tell you the cards would ship after a week, not including time in transit. But they're beautifully printed and they're fabulously coated with a super-thick layer of UV Gloss coating on both sides.
So, off to the mailhouse they go in the back seat of someone's car. A stoplight changes, and the car, with it's load of postcards stops short, spilling the open container of postcards onto the floor. They're collected, and brought inside the mailhouse (in the rain, naturally) where they're left with the receptionist. The mailing list you've always sent to was emailed over, and everything seems all set. Woo!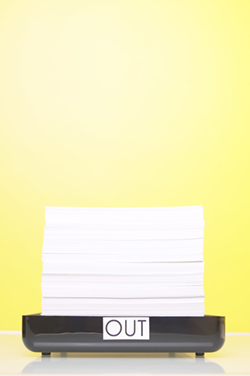 Upon returning to the office, there's already a voicemail from the mailhouse. Your list hasn't been updated in years, it looks like only 79% of those folks on the list are still around, and to top it off, they can't run the postcards through their equipment because the ink slides right off that beautiful UV coating on the second side of the card (which was a free upgrade). Labels will have to be printed, and hand-stuck to the cards, a significant increase in time and cost ensues, pushing this project farther off the timeline and farther up in cost. The money that was saved by printing in Walla Walla is now long spent.
Finally, the day arrives that they should hit the mail, only to find out the online printer fell on the 5% under side of their fine print stating that 5% over or under is acceptable, and there's not enough to complete the list. To top it all off, the permit information was incorrect when the cards were printed and a second label was necessary to get it in the mail.
At last, the postcard gets into the mail, hits mailboxes three weeks late, 30% over budget and barely in time for your promotion.
Ok, ok, so it's a little bit overboard, but taken separately, those are all examples of the problems our own customers have faced by pulling in pieces from different sources. Mailing with the Post Office these days takes knowledge, precision and fanatical attention to detail to ensure everything goes smoothly. There are other companies in Western North Carolina who offer mailing services, but none that offer the level of expertise MMS does. We have been the leader in turnkey mailing solutions for over 12 years, and can take your next mailing project from start to finish quickly and effectively without even leaving our building.
Why run all over town, when a trip to our beautiful offices will get everything done! Contact our CSR Team today to find out how to get started.