Custom Pick and Pack
---
One of these and one of those and two of these...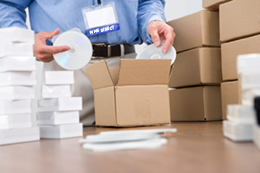 Let's say you've got 10 different styles of books your customers get from you each year, and everyone on your list of 1,000 customers gets a set of five different books that is unique to them. That's a lot of different combinations that could take place!
Instead of hiring a legion of temps to hopefully get each box right, or creating each of those custom boxes yourself, send the job to the leader in custom kit creation. Our experienced staff can set up the workflow in our dedicated mailroom services department and execute the packing of your materials flawlessly. No matter the volume, we can create a custom solution to your custom needs, ensuring your project is done quickly, efficiently and correctly.
Pack up the boxes, bring us the list, show us a sample and let our experts get it done for you.